Submit your information to receive a free quote! We will be glad to answer any questions you may have as well. We looking forward to working with you!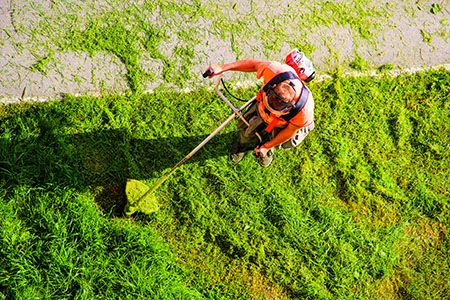 Looking for a company to handle all of your landscape needs? We provide numerous year round services for your convenience. We offer:
mowing

mulch

season clean ups

irrigation

large brush & field mowing

overgrowth cutback
Here at Desmarais Property Maintenance, we provide a complete property maintenance plan to handle your residential and commercial landscaping maintenance needs. For many property owners, landscape maintenance is tedious especially when there are several locations involved. We offer specialized plans to serve all of your locations and provide customized strategies. Our landscaping Bristol CT service is perfect for residential homes as well as multi-site companies aiming to take the extra weight of grounds maintenance off their shoulders. We handle the hard work so that you can concentrate on what matters most.
Before starting the project, our Bristol landscapers will provide a comprehensive maintenance plan to suit your landscape's unique needs. If you have more than one location requiring service, we will make a customized program for each one. Our specialized maintenance plan guarantees that we will provide you with the care and attention your properties need. Trust our Bristol landscapers to provide you with high-quality service on your properties. Maintained commercial lawn care ensures that your business looks professional. Dead grass, weeds, overgrown lawns, or lawn debris, gives off the wrong impression and should be dealt with. Maintaining a well-manicured yard will boost your company's overall look.
Call us today and get a free quote!
Our services are customized to provide you with the exact level of care you require. As a landscaping Bristol CT company, we will implement and design customized procedures to meet your properties' requirements based on physical location and weather patterns. With our commercial landscaping programs, you can be confident that all of your properties are getting the essential attention and care to keep them looking pristine. Our company provides a proven history of creative and quality landscape design. Our landscapes have paved the way to making us a premier design/build company. Homeowners that have used our services find that our designs not only create a much better landscape setting, but also saves them money. Our Connecticut landscapers are constantly challenged to reconstruct a new landscape into something elegant. We work with our clients from beginning to end to make sure we provide your desired outcome.
We offer landscape maintenance services to properties throughout the state. Our landscapers begin each project with the client to create a maintenance plan that addresses the property's unique needs. Your customized plan will be created by the design team. Trees provide shade and add ornamental value to your landscape. They are also year round and allow you to enjoy them continuously. If not maintained, these trees can become dangerous to your family and home. We strive to keep your trees healthy but sometimes this cannot be achieved with existing diseased trees. Eventually tree removal may be required which can be a labor intensive project and should be completed by professionals to ensure the safety of your home and property. We are a full service maintenance company and should you need budget friendly tree removal CT, we can help you.
Our top priority is to keep your trees healthy, and only turn to removal as a last resort. If you find yourself needing tree removal Bristol CT services, don't hesitate to reach out for a free quote. Whether you want a single tree removed or a comprehensive yard overhaul, you can trust us to complete the task correctly. Contact us today for more information!